Many of our friends and/or family have mentioned their interest in making a visit to the U.S. and getting to know the places they have seen in movies or on television since they were little. But with the new immigration and asylum policies under the Trump administration and the acceleration of deportations of certain immigrants, there is a sense of fear and insecurity for friends and family travelling to the U.S. for the first time.
If you have friends and family who will be visiting, here are 6 tips that you can share with them to  help them feel more prepared:
Have all the documentation required to enter the U.S.
Depending on the country of origin, the U.S. requests certain documents to enter the country. These documents include the B1 or B2 tourist visa or the ESTA (Visa Waiver for Spaniards, Andorrans and Chileans). It is recommended to check the website of the U.S. embassy in your country in the visa application section and see what the requirements are to obtain it. Generally, the process is to fill out a form, make the payment, send the information electronically and request a face-to-face interview. This process, depending on the embassy, ​​can take weeks, so it is recommended that tickets be purchased once the visa has been approved and delivered in your passport.
Have all the flight information and route of your trip
Once you have obtained your visa or permit, prepare your trip in as much detail as possible. One of the pieces of information that you will be asked when you leave your country and enter the U.S. is about lodging and flights. It is important to print or write down the address, name and telephone number of the relative or friend where you are going to stay or if it is a hotel it is recommended to print the reservation. It is also advised to have bought your round trip ticket and have it printed. For your trip, it is better that you plan the route or visits that you are going to make. Check maps, museums, tourist places and establish a plan according to the days you are going to stay. This is essential because it is one of the questions that immigration officers will ask you: Why did you come to the U.S.? and How long will you stay? The officers' job is to make sure that you are not going to remain undocumented in the U.S. and if the officers are not convinced of this, they may not let you into the country.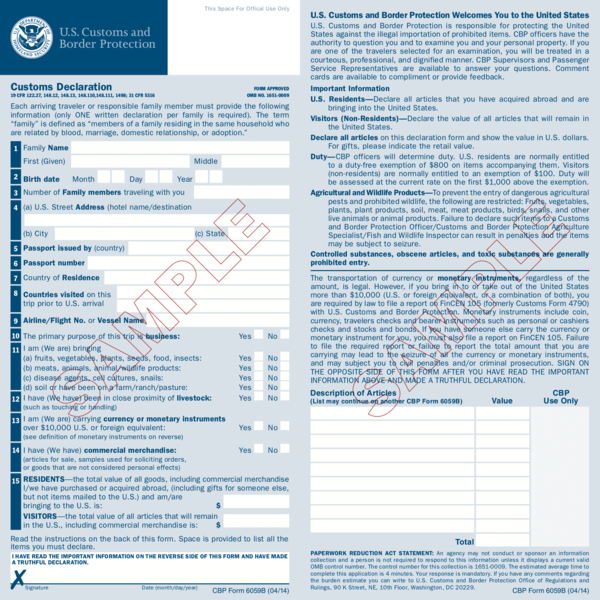 3. Review the items and food allowed to enter the U.S.
When you are on the plane you will be given a blue card from the U.S. Customs where you will mark the objects and/or foods that you are bringing into the U.S. Many foreign visitors like to bring candies, liquors, desserts, gifts, etc.,to share with our friends and/or family, but many of them are not allowed, especially loose and/or unlabeled food. There is also a limit of 1 liter of alcohol that is allowed to enter per person. Be careful with what you bring in, because it could cause you delays at the airport.
   4. Buy travel insurance

This is highly recommended. If you are sightseeing it is possible, even if not likely to have an accident or a health problem. Keep in mind that medical costs in the U.S. are exorbitant. It is suggested to take out travel insurance that covers medical expenses and it will not be a headache for you or your wallet.
Have a budget
It is necessary to have a budget that is real and consistent with your plan. This is another question asked by immigration officers before entering the U.S.: What is your budget? It is recommended to carry cash in dollars so that you are not affected by the currency exchange difference if you are using credit or debit cards. Take your last bank statement, which will allow you to prove your financial solvency for this trip.
Arriving in the U.S.
Have patience and a good attitude. Do not worry or feel nervous. If you comply with all the previous steps you may not have problems entering. It is recommended that you have all your documents organized and printed in case the immigration officers ask you questions and ask for proof of what you are mentioning. Once you get off the plane go to the migration area and get in line in the tourist area. Some airports have a machine that pre-scans  your passport information. If you do not know how to use this machine consult with the assistants. When you get to the migration area stay calm during your interview. Remember that the officer wants to make sure that you are not going to stay longer than you mentioned, so it is important that you have your entire trip planned. Once in the U.S. it is important to have a respectful attitude and according to the culture. For example, maintaining order when waiting in lines, leaving tips in restaurants and respecting the traffic rules, amongst others. But the most important thing is: Enjoy your trip and have fun with your family and friends!