SAN FRANCISCO, CA – Currently selling in six stores in Palo Alto, AlmaSuperFoods announced that it is expanding sales of its products into twenty five new stores by the end of 2019. Guilianna Zamora Chavez, the founder and president of AlmaSuperFoods based in Belmont, California, talked to us about how she started her nut butter business being an immigrant from Peru.
Here is the story behind AlmaSuperFoods founder and her big dream of becoming WholeFoods for Latino food.
"My love for cooking comes from my mom. She used to be a professional chef in our hometown in Peru. Since I was a kid, I loved cooking with her, I knew all about the flavors. For me the best expression of love is through food," says Guilianna. Guilianna studied pharmacy and biochemistry in college in Peru and kept her love for cooking throughout her college years. She never dedicated herself to a chemistry career, but after her studies she viewed her kitchen as her lab and applied her pharmacy skills to cooking.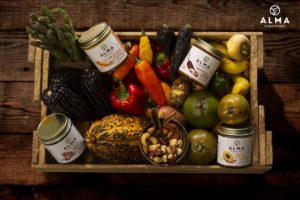 "Latinos are not viewed well in the US, especially now, and I wanted to elevate Latin American ingredients in the US and make all Latinos feel proud of themselves. They should be proud of bringing their culture, their language, and their food here!" 
Guilianna's first visit to the US was with an English learning program. Prior to that she had met her future husband in Peru, he was an American spending his summers in her country to improve his Spanish. During her study visits to the US they got to reconnect and develop a long lasting relationship. Later on Guilianna went on to study hotel management and hospitality in the US, the program lasted 18 months, and after the program ended, she found a job in a hotel. Around the same time period she also got married. In 2009, the couple moved to Boston due to Guilianna's husband studies and Guilianna started teaching Spanish at a language school apart from pursuing her career in hospitality. While in Boston Giulianna decided to receive training in culinary arts, which kept being her passion, and started studying Culinary Arts at Le Cordon Bleu in Boston and working in restaurants. In 2011, after two years of culinary studies and restaurant work the couple moved back to the Bay Area and Guilianna took a job at Apple's main campus managing their cafeterias.
During all these years it was always in my mind to bring something to the community of my heritage. I missed the flavors from home.

Guilianna decided to start a business by recreating artisanal food with flavors from Latin America. She prototyped twelve products just to realize it was too much. She reduced her offering to four products and launched her company on June 13, 2016. "It was "homenaje" to my mom, my mom passed away from stomach cancer and I launched the store on the day that would have been her birthday. If she were alive she would be the soul of this company."
The first year was hard. It was hard to convince people to try new flavors that they have never tried before. Guilianna felt discouraged and thought that her business idea wasn't the right one. Not ready to give up she started describing the flavors."I was almost painting a picture with the flavors," says Guilianna.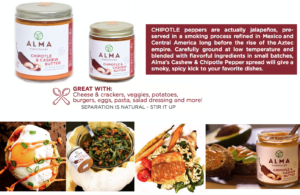 She went to demos and events to educate people about ingredients and tell them what to expect. When she started communicating with potential customers, language became an issue. "I was afraid that people will see me differently because I speak with an accent," says Guilianna. She worked hard on trying to improve her accent, till she realized the accent wouldn't go away. "I said to myself "Maybe my accent is my enchantment?! Maybe I should be proud of it. And this became a turning point in my communication with the customers and business partners."
Guilianna says that a piece of advice she would give to any immigrant who wants to launch a business is that communication is very important and it is important to be proud of who you are. Latino people face many challenges starting a business in the US, because people think that Latinas are not prepared to be entrepreneurs. Guilianna thinks the opposite is true and that Latino women are very good entrepreneurs and have the right grit and skills. "If you travel to other countries, you realize how many Latina entrepreneurs and business owners are there!"
Entrepreneurship is always learning and improving. It is a process.
Right now Guilianna is still learning about her target audience and who they are. She shared with us that the majority of her customers are health conscious 20 to 40 years old Californian residents. Many of them are vegan, on keto diet and / or athletes. They are the ones who want a replacement for the usual snack, something that is easy to prepare. Guilianna recommends putting her sweet nut butters in smoothies, yogurt, or oatmeal; for savory butters there are a few ideas on the AlmaSuperFoods site. 
Guilianna also shared with us that she is still learning how to optimize the production process and how to create relationships with business partners. She wants all her ingredients to be organic, fair trade, and environmentally sustainable.
Guilianna envisions a grand future for AlmaSuperFoods. For 2020 she plans to expand nationwide to 20 more stores. The company is also hiring new staff for operations and sales. "My big picture is to be the WholeFoods for Latino food where I can show quality products coming from Latin America. I would love other Latinas and Latinos to join me in this venture."
My journey is to empower other Latinas!
If you are interested to join Guilianna you can email her at info@almasuperfoods.com