President Trump proclaimed October 24, 2019, as United Nations Day. He proudly told the potent history of the United Nations, recalling how 74 years ago, countries from around the globe gathered in San Francisco following the carnage of two World Wars to establish a global organization "dedicated to promoting peace, delivering aid to those in need," and overcoming international challenges together. President Trump urged all 50 states and all areas under the flag of the United States to observe United Nations Day on October 24th with appropriate celebrations and activities. Our president invoked his constitutional authority to celebrate the United Nations and all that it stands for.

Hold on. Let's pause and appreciate this moment. This is the same president who, just last month, during the 74th session of the annual gathering of world leaders at the United Nations said, "the future does not belong to globalists. The future belongs to patriots." In his 37-minute speech, President Trump highlighted many elements of his America First agenda, and promoted nationalism as a vital end existentially necessary approach, saying, "wise leaders always put the good of their own people and their own country first."

Perhaps in this speech, President Trump was offering a glimpse of his global utopia in which each nation is filled with patriots who, for love of country, would not seek better opportunities abroad. He urged young people and all people to stay at home and help make their "countries strong, and prosperous, and righteous…" Around the globe he urged the "millions of hardworking, patriotic young people eager to build, innovate, and achieve" to stay home. Trump believes that "nations cannot reach their potential if a generation of youth abandon their homes in search of a life elsewhere."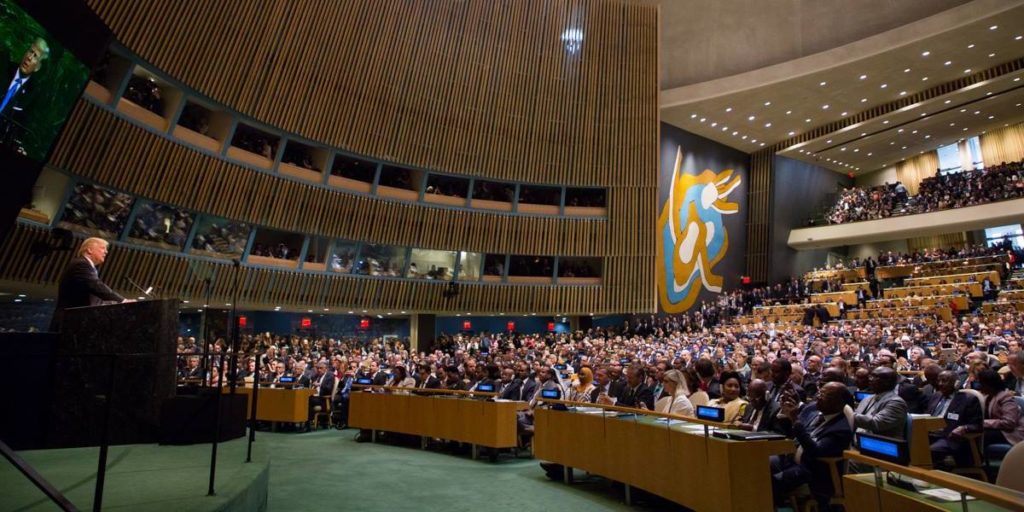 The irony in all of this is so multi-faceted, and multi-layered, drenching every statement, that it's hard to grab onto. Evidenced by his historically restrictive immigration policies (see this Revolution English article for one example), his global trade war (see his tweet, "…trade wars are good, and easy to win."), his import tarrifs, and his America First retoric, President Trump is arguably the most nationalist, protectionist, xenophobic U.S. president in modern history. Yet this is the same president who has honored and respected the United Nations by declaring October 24th as United Nations Day by presidential proclamation, for three years in a row. This year, President Trump celebrated, "the achievements of the United Nations in promoting peace, delivering aid to those in need, and confronting international challenges." And then, according to the Washington Post, when he addressed world leaders at the United Nations, he "stressed that all nations must take care of themselves first while adding that the United States would get involved abroad only when its own interests were threatened."
Finally, Trump, discourages young people from abandoning "their homes in search of a life elsewhere," and yet only because his grandfather, a German immigrant, did precisely that, is it even possible that Trump was able to become a U.S. president. Oh the irony.