SAN FRANCISCO – While planning its proximate expansion Vitamina store is going through a zen moment – squeezing fresh juices, açai bowls, and making customers happy. We had a chance to talk to Vitamina's founder Montserrat Ayala García and learn what's in the oven: two new locations in Silicon Valley. The plans to expand to North and South San Jose, CA.
How did a Mexican immigrant grow her business starting from scratch and with a language barrier? We bring you Montserrat's story:
I'm from Mexico and I have never imagined that I was going to open a juice bar at Facebook!
Montserrat moved to San Jose, California from Mexico when she was 23. One of the first challenges she faced was that the English she had learned at school simply wasn't enough for a life in the US. Her second disappointment came when she realized that her degree in Psychology from a university in Mexico wasn't valid in the US. If she wanted to go forward with her career she would need to go back to school and start from zero.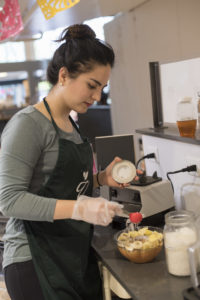 "It was a low point in my life, I was depressed and didn't know what to do," Montserrat remembered." That's when her husband invited her to join him at events he had planned for the week. This is how she started to meet people and learned the power of networking. Shortly after she started networking she got a job at Turning Point, Counseling Services and PIQE (Parent Institute for Quality Education), and worked with the community that speaks Spanish. "It was amazing! Speaking Spanish in the US was more important than I thought," she said.
Despite loving her job, Montserrat's dream was to open her own business. "In Mexico it is very common to drink freshly made juices. You see a juice stand on every corner, of course it is very informal there! Here in California it is a trend, there in Mexico it is part of our culture. This is how I decided to start Vitamina."
Montserrat's husband was very supportive of this idea and they started by selling at San Jose Farmers Market. After a year of hard work and successful sales, Montserrat decided it was time to open their own store. The issues started as soon as they found a space to lease. Working with contractors, state departments, architects, reading documents, Montserrat realized again that her English wasn't enough, and everything became a challenge. She had a hard time understanding the terms and what was needed of her.
"I don't know if "brave" is the word, but this is how I felt. I had to show up for myself." She started showing up to all the meetings, reading leasing contracts, talking with owners and agents, making sense of the terms, writing hard words down and googling them later.
"This was very challenging, but there were two things that I've learned during this period. First was showing up for myself, because nobody was going to do it for me. And the second was being willing to ask for help. I think that in my community we are reluctant to ask for help, we always think we can do it ourselves. And this is not right, because when we get help we are able to achieve more. So I started asking for help."
Once she voiced her need for help people started calling her and asking "What can I help you with today?"With her energy and community's help, Montserrat was able to open the doors of Vitamina in October of 2015.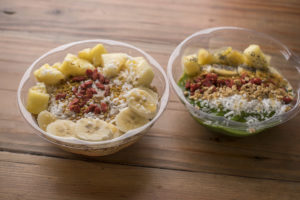 It has been very challenging. It has been amazing!
One month after opening the doors of Vitamina she was invited to an event in San Jose. The place was noisy and everyone spoke English, but not the English she could understand. "It was English of people with a certain level of education. I felt overwhelmed. I understood only 15% of the conversation. I always thought of myself as a social person, but that day I asked myself what was I doing there. All I wanted was to go to the bathroom and cry." Montserrat wasn't meeting anyone and was about to leave when someone asked her if she spoke Spanish. She was happy to say "Yes!" She took this opportunity to interact and soon more people joined their conversation. People who learned Spanish in highschool and only spoke a few words took this opportunity to practice their Spanish. "This changed my perspective. I thought that maybe if I can't connect with them in English I can help them practice their Spanish. It stopped my anxiety." Something changed for Montserrat at this moment. She realized that she needed to forget that she didn't speak English well and instead take this opportunity and connect with others. No longer was she scared. Her self esteem was back.
"My big accent is my superpower! It is my skill. It is what I am and it is my personality."
The next big thing that happened was Facebook reached out to Montserrat and invited her to participate in their pilot program. Their goal was to bring small business owned by minorities to their Facebook campus. Montserrat and her husband took a leap of faith and accepted the challenge. They opened their storefront on Facebook's campus. "We ran it there for three months and then we decided to take a step back and fold it." While Facebook sponsored the space and utilities, Vitamina was expected to function as a separate business on Facebook's campus, meaning Facebook employees needed to pay for Vitamina juices. Montserrat couldn't compete with the juices and fruits offered for free at the company's food court. "We couldn't keep it running, but the experience of building up the space and working with Facebook culinary team was great. We learned so much about the business!"
Montserrat and her husband are now focused on running their Vitamina juice bar in San Jose, California. The business has been open for four years and has a long list of happy customers. Next time you visit sunny Silicon Valley you may want to say hi to Montserrat at her Vitamina store while enjoying an avocado toast or a fresh juice!