Janine Capó Crucet was invited to read her novel and lead a discussion at a predominantly white college on October 9th, and the result was more than just a heated debate. The discussion that tackled issues of white privilege and diversity, topics in her novel, bothered some students so much that they gathered to burn Janine's books to the outrage of many. 
While some students saw the book burning as a source of shame and disgust, others supported what they called their freedom of expression.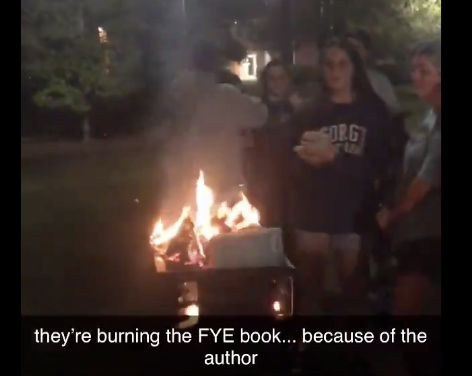 Nationally, the outcry in support of the author who is an Associate Professor at the University of Nebraska and New York Times contributor has been strong and supportive. 
The discussion at Georgian Southern University invited Janine to dive into themes in her novel Make Your Home Among Strangers, and all freshmen were invited to attend the speech, since some had the book as required reading according to the student paper The George Anne. The novel follows the story of a Latina, much like the author, who is accepted into a prestigious university and struggles in her new predominantly white atmosphere. 
During the question and answer period, a white student picked up the mic and said "I noticed that you made a lot of generalizations about the majority of white people being privileged," and questioned her Janine for doing so, according to The George Anne. Her response, according to the article, was to explain that she "came here because I was invited and I talked about white privilege because it's a real thing that you are actually benefiting from right now in even asking this question." 
What's so heartbreaking for me and what is so difficult at this moment right now is to literally have read a talk about this exact moment happening and it's happening again. That is why a different experience, the white experience, is centered in this talk, she expressed.
Later, before the video of the books being burned emerged, Janine responded so some tweets that questioned why she was "dissing white people". One video of the students gathered around buring the book was Tweeted by @elainaaan noting "white people need to realize that they are the problem and that their privilege is toxic." 
In response to the incident, the university said that "while it's within the students' First Amendment rights, book burning does not align with Georgia Southern's values nor does it encourage the civil discourse and debate of ideas" in a letter from John Lester, Vice President for Strategic Communications of the campus. The university did not discipline the book burners, but President Kyle Marrero sent a letter to students and professors, noting that "while it's within the students' First Amendment rights, book burning does not align with Georgia Southern's values."
Several organizations that defend freedom of expression were critical of the students' choice to burn the books, one was PEN America. While many professors and supporters advocated across social media channels that we all should "go out and buy her book" in solidarity and support.