SAN FRANCISCO – Forum of Changemakers' took place in San Francisco, California on October 17th 2019. Organized by Femigrants it brought together speakers and immigrant women and men who came to the event to learn something new and meet other immigrants to expand their supportive network. 
The event was opened by a representative of Perkins Coie LLP San Francisco that hosted Femigrants, helping the community of immigrant women come together and network with a beautiful view of downtown San Francisco from its tenth floor offices.  A group of volunteers, also femigrants, helped run the event, making sure that all the guests and speakers were attended to, connected, and engaged.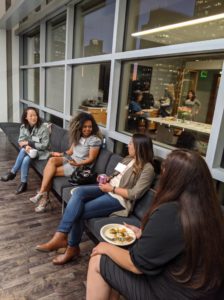 I decided to volunteer because I like the mission of this organization and I wanted to support it. Also, as an immigrant myself, I wanted to contribute to the community of diverse women immigrants and give back in whatever way I can.
Shares Zarina Gumbatova, one of the volunteers at the event.
Ika Aliyeva, the founder of Femigrants welcomed guests and speakers with her story of arrival to the US as an immigrant without a job and her struggles applying to jobs she was overqualified for. Being passionate about social media and having received adequate education in her home country of Azerbaijan, Ika didn't believe any serious company in Silicon Valley would hire her since there were plenty of Stanford and Berkeley grads competing for the same jobs. She unsuccessfully applied to caregiver and restaurant jobs for months, until one day she received honest feedback to rethink her career path and apply for jobs she was passionate about. That day her life changed, she took a leap of faith and very soon got hired to be part of the Instagram team. Ika realized that a majority of immigrant women faced the same issue and since then, she has made it her mission to help other immigrant women connect to resources in the area and get the jobs that are worthy of them. Femigrants is her organization, and does exactly this. Read Revolution English's interview with Ika here.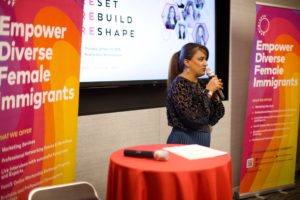 Following Ika's story, the guests heard from Sepi Ghajar co-founder and CEO of Taygo, on transforming failure into dreaming big and executing your ideas. Sepi talked that sometimes you know how to solve a problem by following your passion and your skills, and in these cases you shouldn't take "no" for an answer. If you are persistent you will find a product market fit, it takes time and sleepless nights, but it will happen.
Nicol Perez in her chat uncovered the power of unlearning what you learned. She pointed out that we learn a lot of things from our family and community in our home country and we bring it with us to our new place of living. These opinions and behaviours are no longer valid and prevent our growth. To move forward you have to take a step back and unlearn things that are no longer helpful to you.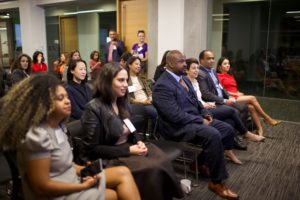 Mahlet Mamo brought her welcoming attitude speaking about the subtleties of cultural differences and going over her career path in the US. It was followed by a wonderful story and talk about starting your own business in Silicon Valley by Emna Ghariani co-founder and CEO of Veamly.
The speakers included Anthony Hayes Managing Director at Modis giving an amazing speech on resetting, reshaping, and rebuilding the staffing industry with the power of listening and empathy. Anthony talked about the issues he faced when first joining the staffing industry in the US over a decade ago. He highlighted that staffing industry is a service industry that should listen and respect people who come looking for jobs.
The important question in today's corporate and societal environments should be how can we do better. There is an answer and a solution.
Anthony sited a quote by Zig Ziglar "The first step in solving a problem is admitting that there is one." He then proceeded by talking about Corporate America and the Staffing industry services and why they are broken. "The why and how is a lot more involved, but there is a solution. Interviewing is about authentic communication but there is very little of that happening in the interviews. Recruiters and Hiring Managers are asking a bunch of questions that provide no real value and quite often can't or refuse to explain "why" they've made the decisions that they have. This is having a negative effect on budgets, project completion, and perception in the market. We're interviewing people because they look good on a piece of paper but not based on who they are and how well they fit within the scope of a project. This must change. It starts with communication and unfortunately most people in the interview process aren't good at it." Anthony shared three unique stories with the audience expanding on how he tried to change departments he worked with by listening and observing people who came to look for jobs. After years of hard work Anthony is changing how HR managers at large companies are hiring immigrants.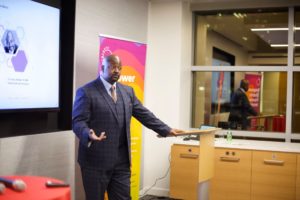 Stage presentations were followed by conversations in the hallway with the speakers, organizers, volunteers, and guests, helping the audience connect and build relationships with professional goals in mind. 
I came to the Bay Area a couple of months ago and was pleased to join Femigrants' Forum as a volunteer, it helped me to get started in the new place and use my previous experience in events. I think it is very important to have such community in the area, so women could support each other and the business they do. I felt welcomed and all the volunteers, speakers and guests really inspired me in my future professional journey in the US.
Said Margarita Polishchuk, photographer and volunteer at the event.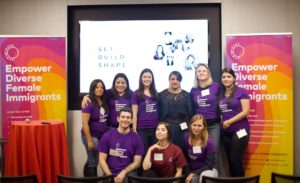 Ika commented that the event was a success however next time she would like to see a larger number of immigrant women looking for jobs, especially those who have just arrived to the country and don't know where to start their search. 
"I think building a community for women is a brilliant idea. We have this chance to connect and know all successful women in the Bay Area with Femigrants events and learn from their hardships and experiences. I feel I'm not alone through my journey and there are many other women like me who are trying to pursue their dreams," Azar Afif, one of the guests told us after the event.
Femigrants is planning more events in San Francisco in the coming months and their third anniversary in March 2020.