SAN FRANCISCO – When Ika Aliyeva arrived in the US with her husband, she had a college degree, a career in marketing, and a total of $300 in her pocket. Today she is the Founder of Femigrants, a global community of diverse female immigrants. And if you are local to SF / Bay Area here are some good news for you: Femigrants will be hosting two career events next month in San Francisco (see below for details).
How did it all start? When Ika and her husband arrived in the US, they needed a job and didn't know where to go to ask for one. Back in their countries they would go to a store and ask if they were hiring, so they decided to follow this practice in the US. At every place they inquired they were asked to leave an application. The hiring process wasn't clear and they felt lost not knowing how to build their professional network. Once they got their first job offer and started re-building their careers, they still didn't have anybody to ask for advice. They were sure there were other immigrants that went through the same struggles but they didn't know how to reach them. "I believed I wasn't the only immigrant woman facing this issue. I decided to build a platform that would have helped me when I first arrived here. We wanted new immigrants to reach out to us so that we can help them understand networking and the job market in the area," says Ika. Ika went to build a trusted community of female immigrants where women turn to for housing, schooling, and job advice.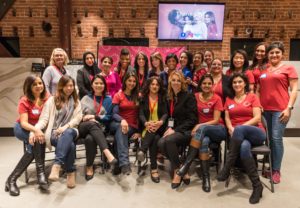 "Femigrants helps immigrant women unlock their full potential and get ahead in business or career through inspiration, education, opportunity, and community support.  Our services include professional networking events, online and offline trainings, media support – publishing inspiration stories of successful immigrant to help them get exposure and promote their services/business," said Ika. "We are transitioning into a startup and planning to launch new services very soon. I encourage immigrant women, who want to give or get support, to join our diverse community of professional women on Facebook and sign up for our newsletter."
Since Femigrants launched, it's been the connecting point for immigrants seeking professional support. A recent success story is of an immigrant man who attended Femigrants 2nd anniversary event in March this year and connected with the speaker from Robert Half, the world's first and largest accounting and finance staffing firm. After the networking event, he kept in touch and sent his resume for an open position. He got the job and Femigrants founder felt that through this small success their mission was validated. The second success story is about two immigrant women who met at a Femigrants event. One woman was an artisan making beautiful handmade goods who didn't know how and where to sell her products, the second woman ran an eCommerce website but was in need of more unique products. Both connected and started working together. A year and a half in, they continue collaborating and the business is flourishing. 
Two new events by the Femigrant community in San Francisco will take place in October this year. Tickets went on sale this week. Free tickets are available for immigrants that need financial assistance including single moms, low income workers, unemployed, and any newcomers who are eager to join the event but can't afford it. Grab a seat if you are looking to reset your mindset, give your career a boost, or simply network with other immigrant women in your area. 
October 17 – "Forum of Immigrant Changemakers: Reset. Rebuild. Reshape." The conversation at this event will be around reshaping the story of immigrant community, unleashing the potential of immigrant changemakers, and providing support to those who are looking to change careers. Tickets start at $29.
October 30th – "Build and Leverage Professional Connections in 4 Sessions" is a career oriented workshop designed around building and leveraging professional connections. Four sessions of the workshop will focus on building long-lasting connections, obtaining support, and practicing networking among other skills. If you were looking to relaunch your career in the US, this might be the right workshop for you. Starting at $120 for 4 workshop sessions. 
The organization is also looking for volunteers for the events in San Francisco, apart from attending the event for free you will get a chance to create meaningful and lasting connections with  speakers and business leaders in the area. To apply for a free ticket or to volunteer email contact@femigrants.com.