The Secretary of Defense wrote a letter to U.S. Senator James Inhofe (Republican-Oklahoma), Chairman of the Committee on Armed Services, announcing $3.6 billion that will be spent for a wall between the U.S. and Mexico. Here is part of the letter: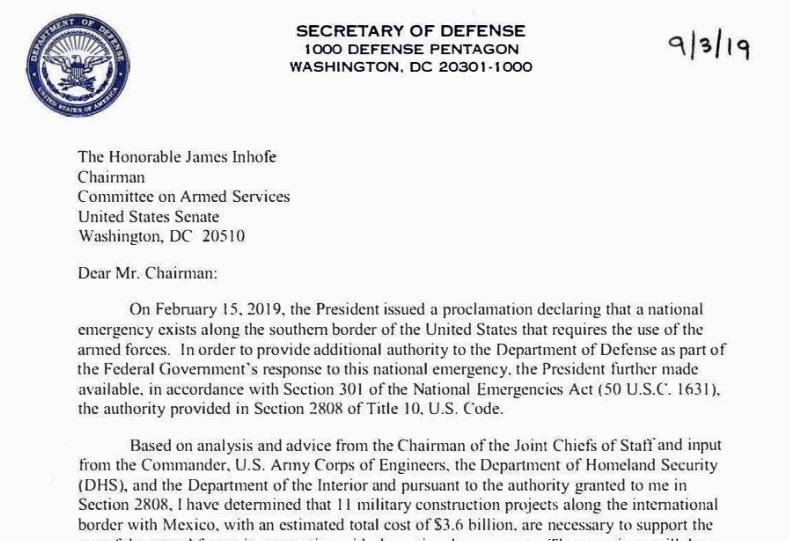 In February, the White House declared a national emergency so that taxpayer dollars could be utilized to pay for a wall without congressional approval. Public health and environmental advocates are concerned that a wall along the U.S.-Mexico border will harm migrants, border communities and the environment. The wall is meant to deter migration, but the reality is that these policies only make the journeys more difficult and dangerous for many migrants. Hundreds of migrants die from the journey, suffering hypothermia, dehydration, sunstroke, and drowning.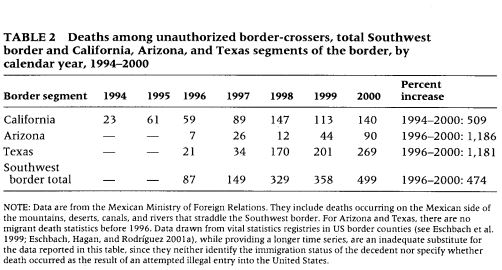 According to the National Immigration Law Center,
Research shows that attempts to prevent migrants from crossing in heavily-trafficked urban areas like San Diego, Calif., and El Paso, Texas, only pushed people to cross in more remote, hazardous terrain. When the border was fortified along the California-Mexico border under "Operation Gatekeeper," for example, crossings in San Diego went down, but crossings at points farther east in Arizona increased tremendously. As migrants undertook journeys in the remote mountains, deserts, and across waterways of the Southwest, deaths increased by 474 percent between 1996 and 2000.

On the U.S. side of the border, the detrimental effects are equally pervasive. Vicki B. Gaubeca, director of the Southern Border Communities Coalition stated, "Trump's desire to divert military funds for his deadly and dangerous wall will only further degrade the binational character of our region and threaten the quality of life of the 15 million people who call the southern border home. Trump's attempts to sidestep Congress are a direct assault on the checks and balances that represent the bedrock of our democracy. We will continue to push against the further militarization of our communities and for a new border vision that expands public safety, protects human rights, and welcomes all people to our region."

In addition to the negative impacts felt by communities on both sides of the proposed barrier, a border wall harm the environment. Gloria Smith, managing attorney with the Sierra Club commented to the Supreme Court Order during the Border Wall Lawsuit in July 2019, "Today's decision to permit the diversion of military funds for border wall construction will wall off and destroy communities, public lands, and waters in California, New Mexico, and Arizona. We've seen the destruction that the ever-expanding border wall has inflicted. The Sierra Club will continue to fight this wall and Trump's agenda through and through."

In addition to the harm caused to human life, communities, and the environment, the border wall also takes funding away from other vital projects. On September 4, the Pentagon listed projects that will lose funding, and they include elementary schools, fire stations, and recovery projects. Programs in Puerto Rico were among the hardest hit of all US states and territories, with more than $400 million in funding for planned military construction projects diverted to the wall under the Pentagon's plan. Here are the programs that will be cut in Guam and Puerto Rico: