LOS ANGELES – "I really don't want to be here," said one student carrying a Louis Vuitton bag in line at the Starbucks across from the Ahmanson Auditorium at the Loyola Marymount University (LMU) campus on the afternoon of November 7, 2019. She was referring to the visit of Valeria Luiselli, whose 2017 novel, Tell Me How It Ends: An Essay in Forty Questions, was chosen as the the LMU Common Book for 2019-20. The Common Book program is designed to unite the LMU community in a common text.
"We have to be here," unknowingly, was Desiree Diaz's response, in her introduction of the author. Desiree is a member of Resilience, which works to raise the campus community's awareness of immigration issues. In her introduction of Valeria Luiselli, she describes the novel as not intending to resolve or clarify, but to complicate, because the issue of child asylees "has no beginning, no middle and no end."
The author, Valeria Luiselli, takes the stage and bookends her comments with readings from her novel. She begins describing a photo of an elderly couple sitting on beach chairs, wearing sunglasses, holding signs saying, "Illegal Is a Crime" and "Return to Senders",
I zoom in on their faces and wonder. What passed through the minds of Thelma and Don Christie when they prepared their protest signs? Did they pencil in "protest against illegal immigrants" on their calendars, right next to "mass" and just before "bingo"? What were they thinking when they put their beach chairs inside their trunk? And what did they talk about as they drove the forty miles or so north, toward the protest in Oracle?
After reading the passage, Luiselli goes on to explain what brought her to write about the child asylee crisis on the border— She was on a road trip in the summer of 2014 with her family, driving from New York City to the Arizona Mexico border. The crisis had been building for the last year with 60,000 children arriving at the border without documents, seeking asylum and refuge from violence and abuse. These children, who were escaping police brutality, gangs and kidnapping, did not know that they were transitioning to a different form of violence, this one state-sanctioned. "As soon as a child is in the custody of Border Patrol officials, he or she is placed in a detention center, commonly known as the hiielera, or the 'icebox'," writes Luiselli to describe the treatment of child asylees under the Obama administration. In the present Trump administration, children and adults are placed in the "dog pound" or "perrera", cages where kids are separated from their families. She notes that these cages and this separation is a significant change that has taken place since writing her novel in 2017. In addition, under the former administration, children stayed in private detention facilities for a few weeks—in this administration children are detained indefinitely and moved around between shelters, for eight months or longer.
In 2014, the situation was reaching a crisis status when then President Obama reduced the number of days children had to find a lawyer from 360 to 21 days. In response, organizations across the United States came together to come up with a questionnaire with questions the kids had to answer in front of a judge. The effort needed translators and that's where Luiselli came into the picture. She started to help screen and transcribe the children's testimonies. At the time, she was trying to frankenstein a novel of testimonies she was hearing in the courts, but this novel, Tell Me How It Ends: An Essay in Forty Questions, was birthed from Luiselli's work as an interpreter for dozens of children and teen migrants who crossed Mexico to reach the United States, needing help as they pressed their legal cases for asylum. She structured her book on the 40 questions that are asked of those undocumented Central American children facing deportation.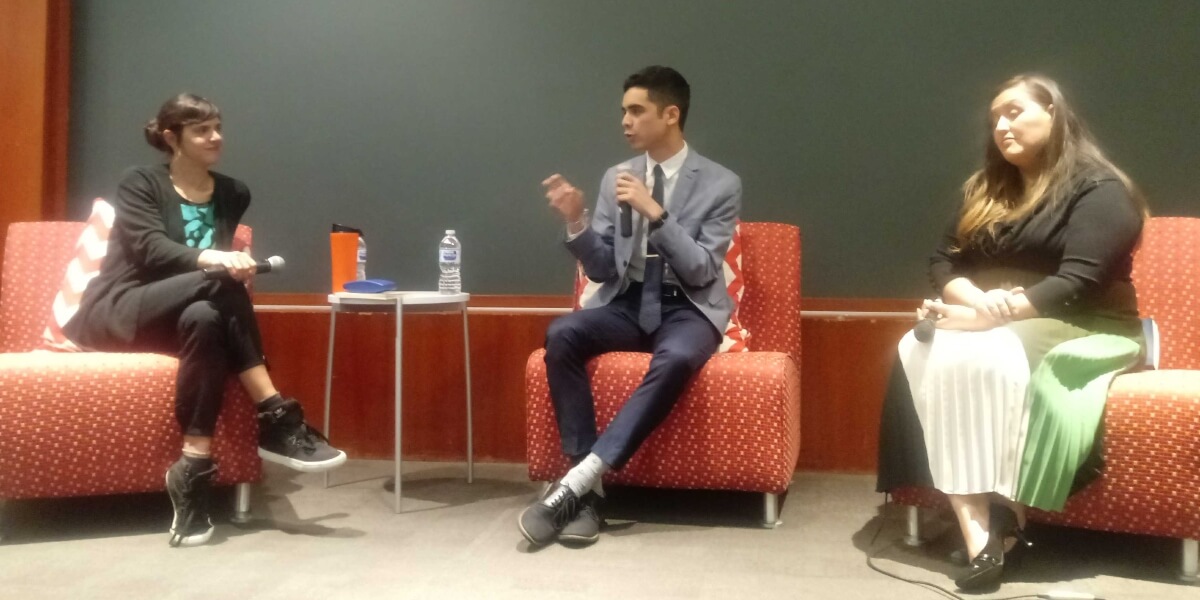 The novel held particular resonance with Saúl Rascón Salazar and Claudia Sandoval, Assistant Professor of Political Science, who joined the author on stage for an intimate Q&A after the reading. Salazar, active in his home state of Arizona as an advocate for tuition equity for undocumented students, said that he felt it was like his parents were writing this book. Ten weeks into his college years, Salazar, a first year International Relations major, asks how we can leverage emotional capital to make change.
Luiselli believes change comes from the power of the narrative, explaining that the narrative we tend to hear is of the barbarous country south of the border, but that the legalized violence perpetrated against Native and Indigenous peoples and the mass incarceration of African-Americans and undocumented immigrants by Immigration Customs Enforcement (ICE) is not talked about in the media or canons of education. These practices are legalized and made normal even though they are unconstitutional. People have the right to seek asylum under international law but it has become normal to incarcerate them. Luiselli stops short of being prescriptive but challenges us all to thread together a "complex narrative that gives us a shared vision, not homogenous, but common enough so that certain people are not excluded from that narrative." Luiselli says, "The way I come through this is through writing," and then she goes on to invite everyone to examine their limitations and possibilities in taking action against the atrocities at the border.
In a conversation with Salazar after the event, I told him of what I overheard in line at the Starbucks and asked him what he would do to address those who have the privilege of not having the impact of atrocities like those at the border enter their reality. Salazar points out that there are big differences between his experiences as a DACA beneficiary and a child seeking asylum at the border, and goes on to tell Revolution English,
I went to a predominantly white school. My friends cared about DACA because they knew me, and they cared. Because they cared about me, their parents cared, and engaged their community. Hopefully someone who was in that audience today will see another student, ten weeks in [college], and become more interested, more understanding. Maybe that personal connection will make the issue more relatable. I'm like any other student that stays up late at night studying, goes to classes and office hours….plus this."
Perhaps, this is how it will begin.